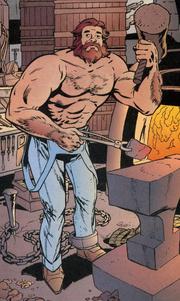 Weyland Smith was the administrator of the Farm before Rose Red took over.
When the revolution started at the farm Weyland was chained up in the caves and forced to make customized weapons for the revolutionaries. There was a charm set up so he couldn't attempt to escape.
But when Snow White was chained up there he made a key to unlock her, since the spell didn't stop him from freeing Snow. Snow White in turn freed Weyland.
After the revolution Rose Red became the administrator at the Farm. Rose and Weyland became close.
When the Adversary's wooden soldiers came to the mundy world Weyland assisted in the resistance at Fabletown. He fought the wooden soldiers when they reached Fabletown, smashing them with his giant mallet. But eventually he fell and was commited to the witching well.
He is now Haven's Chief Builder in service of King Ambrose.
The Fable
Edit
Notes and References
Edit
Community content is available under
CC-BY-SA
unless otherwise noted.