For past polls see the poll archive.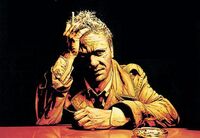 John Constantine is a magician and conman. He fights demons and has been to Hell and back on more than one occasion. John is a chain-smoker and has tricked demons to survive lung cancer.
Everyone close to John bad things tend to happen to. His best friend Chas is his longest surviving friend. He forces Chas to drive him around whenever he needs a ride. Chas has been through a lot as a friend of John's, including being possessed by a demon. John's niece followed him into the occult but backed out after a little while and recently has tried to exact revenge on him for something that his demon-self did to her at his wedding. He is married to Epiphany Greaves, an alchemist.

Refresh page to see new article...
Blogs
LexiLexi
•
Many fans of Fables would probably enjoy seeing the comic book series turned into a movie or show (despite the fact that they might still prefer the comic books).
One fan in particular, Digital Ritch …
See more >