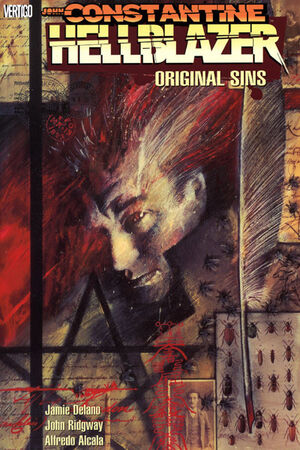 Hellblazer was an ungoing series started by Jamie Delano.
With the launch of DC's 52 and the cancellation of Uncanny X-Men, Hellblazer was the longest ongoing monthly series without renumbering or cancellations/rebirths from "the Big Two".
Hellblazer was known as Vertigo's longest running comic as it actually started five years before Vertigo was a publisher, at DC, and it was the last Vertigo launch title to be cancelled.
Hellblazer follows occultist John Constantine through his crazy adventures.
Collected Graphic Novels
Edit
The Devil You Know
The Fear Machine
The Family Man
Rare Cuts
Dead-Boy's Heart
Dangerous Habits
Bloodlines
Fear and Loathing
Tainted Love
Damnations Flame
Rake at the Gates of Hell
Son of Man
Haunted
Setting Sun
Hard Time
Good Intentions
Freezes Over
Highwater
Red Speluchre
Black Flowers
Staring at the Wall
Stations of the Cross
Reasons to be Cheerful
The Gift
Empathy is the Enemy
The Red Right Hard
Joyride
The Laughing Magician
Roots of Coincidence
Scab
Hooked
India
Bloody Carnations
Spin-Offs
Edit
Characters
Edit
Family and Friends
Edit
Other Occultists/Magicians
Edit
Demons, Angels, Gods and Other Entities
Edit
Other Villains
Edit
Minor Characters
Edit
Notes and References
Edit
Community content is available under
CC-BY-SA
unless otherwise noted.