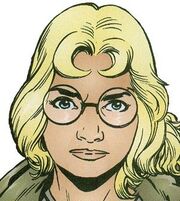 Goldilocks
chose to live at
the Farm
though she could live in
Fabletown as
she could easily pass as human. She was married to
Baby Bear
. She was part of, and led, the revolt at the Farm. But she escaped execution and was later hired to kill
Bigby and
Snow White
.
The Fable
Edit
Goldilocks was walking in the woods when she came upon a house. She entered the house and preceeds to try the food, chairs and eventually sleeps in one of the beds. The owners of the home come back eventually; who are three bears: Papa Bear, Mama Bear, and Baby Bear. They are upset to find their house a mess and find the culprit asleep in baby Bear's bed.
Notes and References
Edit
Community content is available under
CC-BY-SA
unless otherwise noted.