Cheryl Masters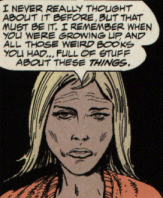 Real Name
Cheryl Masters nee Constantine
Cheryl Masters is the older sister of John Constantine. She married Tony Masters and has a daughter Gemma Masters. She is dead, she was killed by her husband, who thought she was a witch. Nergal repaired her body but could not bring her back as her soul was in hell. She was a pure soul and did not belong there but she sacrificed returning to life and instead remained in hell so her husband didn't have a double punishment. This left her daughter an orphan.
When Epiphany Greaves is back in 1979 she sees Cheryl come to John asking if her and one-year-old Gemma can stay with him for a little while because Tony was being weird. John refuses to let her stay, but attempts to give her money which she throws back at him. Epiphany tries to persuade John to let her stay, but John still won't. Cheryl tell Epiphany to watch out because one day Epiphany will ask John for help and he won't give it.
Notes and References
Edit
Community content is available under
CC-BY-SA
unless otherwise noted.